Pahexus is a system located in the Djorg 3/NGC 6540 cluster, about 12 thousand light-years away from Sol.
It is home to the Trarrofs and their home planet Cöntqa. For humans, the system is best-known for hosting the moon Eonxe which used to be the headquarters for pirates operating around Milky Way.
The system has 7 main planets and a dwarf planet along with an asteroid belt:
Haarvax (Scorched S-Class)
Daashna (Scorched D-Class)
HaasaVosta (Scorched D-Class)
Cresths (Temperate N-Class)
Wuind (Cool S-Class Dwarf Planet, largest in the belt)
Cöntqa (Cold J-Class, capital of the system)
Liatra (Cold I-Class)
Fints (Frozen I-Class)
Most major bodies in the system have been colonized by the Trarrofs, with noticeable presence of human populations and economic activity in some of the colonies.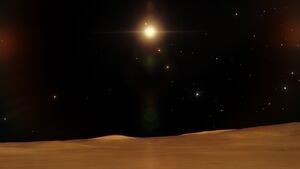 Ad blocker interference detected!
Wikia is a free-to-use site that makes money from advertising. We have a modified experience for viewers using ad blockers

Wikia is not accessible if you've made further modifications. Remove the custom ad blocker rule(s) and the page will load as expected.